Hastings Hideosities
As posted in our Newsletter no 11, this page is devoted to Hastings Ugliest buildings or in the words of Eve Montgomery, our treasurer – Hastings Hideosities (run hideous and monstrosities together)
Poundstretcher Replaced The Castle Hotel in 1960s.
Firstly from our member David Brown who writes –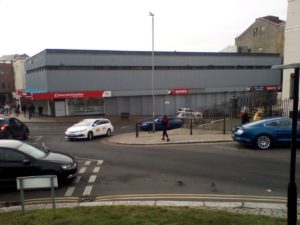 "I would like to nominate the
Poundstretcher/Shots building at the bottom of Wellington Square (picture attached).
This building would be out of place anywhere other than an industrial estate. However its location replacing the lost, fourth side of the Georgian Wellington Square must be one of the most inappropriate places it could have been built.
Were the planners asleep, one wonders?"
The building opened as Tesco's in 1968.