Why Did King Harold II Lose the Battle of Hastings?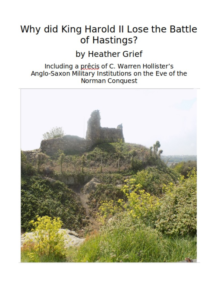 Members may be interested in this new publication written by Heather Grief of the Hastings Local History Group. The booklet covers all aspects of England's defensive system, along with the background to the events of 1066, and Heather's interpretation of why the main players acted as they did.
It began life as her précis of C. Warren Hollister's Anglo-Saxon Military Institutions on the Eve of the Norman Conquest, which was the first 20th century book to challenge the historical orthodox view that England was 'behind the times' militarily, and that this was the reason for Harold's defeat.
Hollister did not cover some aspects of England's defensive system, and Heather has therefore added notes on the individual soldiers' weapons, the defensive role of burhs (fortified towns), bridges and churches, and her views on how news of invasions was transmitted so quickly. The speed at which Harold's army moved is also explained, estimates are made of the death/serious injury rates from Earl Tostig's raids and the invasion of Harald Hardrada with Tostig and their cumulative effect on Harold's army's strength at Hastings.
The booklet ends with a consideration of the reasons behind Harold's decision-making – the main influence being the fact that William had had hold of his youngest brother, Wulfnoth, since 1052. In Heather's view, Harold's aim was to take William alive so that the two could be exchanged – he had failed to gain Wulfnoth's release in 1064, when he went to Normandy. Normally, any leader's battle aim was to kill the opposing army's leader, which would result in the leaderless army fleeing. If this was Harold's battle plan, it put him at a disadvantage in several ways. "You will have to buy a copy," says Heather, "to find out more!"
An informative glossary gives the meanings of everything from 'Anglo-Norman Feudalism' to the 'Witenagemot'. "The story is about so much more than just an arrow in the eye!"
The booklet is A5 size, 44 pages, price £3-50.
Heather has copies at home; please ring first to check that someone will be there (01424) 444277.
Or she can post out copies (please add £1 for p & p), and make cheques payable to
Hastings Local History Group, and post to her at:
64, Tower Road West, St. Leonards-on-Sea, TN38 0RL